< Back to Search Results
Saint James Paris
Poshbrood was très lucky to stay at the Saint James Paris for two nights in December. We continue to dream about our new favorite hotel in Paris because it was simply magnifique! The Saint James is the Relais & Chateaux flagship hotel in Paris and j'adore!
For those of you who think you have to have a Left Bank hotel when you're in Paris, think again, especially when with kids. So much more space!!
Located in the tony residential neighborhood of the 16th arrondisement, Saint James makes a grand impression as you approach the mansion that was built in 1892 as a Foundation to host talented students.
Built on a former airfield where hot air balloons used to take off, the hotel has incorporated "le ballon" in a chic and eclectic manner -- wallpaper in the hallway, light fixtures, paintings and covered cabanas on the grounds.
The hotel is just steps from the Victor Hugo metro, around the corner from fashionable Avenue Foch and close to the Arc d'Triomphe and the Eiffel Tower.
After a long sleepless flight from the States and a rainy, long commute in Parisian morning rush hour from Orly, I was warmly greeted by hotel staff and was happily shocked to learn my room was available at 10:00 am! I had a quick tour of the property and went to my lovely suite -- oh, how I love a heavy French key!
A basket of pasteries awaited me in my room. Nothing like a pain au chocolat to help jetlag!
Not only are the rooms gorgeous (totally renovated in 2010 and decorated by Bambi Sloan) but even the smallest room category is remarkably large for a Parisian hotel. My suite was so roomy it could easily accomodate a family of four or even five with small kids.
The bathroom, too, was so decadent. Double sinks, a bidet, separate water closet, rainwater shower and beautiful claw foot tub.
After a quick shower, I went on a long walk through the sixteenth arrondisement, towards the Seine and the Eiffel Tower.
I was heading to the Musée du quai Branly, which is a stunning museum that typically is not on every tourist's list like the Louvre or Musée d'Orsay. Even before you enter the interior of the museum, you are already blown away. Here is the museum's exterior in the evening.
I went to the Branly specifically to see a visiting exhibiting on the Samourai warriors and Maori peoples but their permanent collection is also amazing. Branly's permanent collections area holds over 5,400 artifiacts from Oceania, Asia, Africa and the Americas. Objects such as Mexican fertility figurines dating from 300 BC, a shaman's cloak, a Tunisian "evil eye" pendant from the 9th century are examples of what you might find.
Do the audiotours, they are fabulous. This is a wonderful museum for families.
After the evening Branly tour, I walked back towards the Saint James and had supper at a Sir Winston's. Who said diplomacy was dead. Our stylish French friends have refurbished the oldest pub in Paris, giving it a plush, dark-wood finish, naming it after Winston Churchill, and making it look like an English member's bar meets a New York cocktail lounge.
The chic lounge has tables, plush sofas and couches where you can sip fine cocktails under beautiful oil paintings and order lunch or dinner. Little or no tourists here, lots of shockingly gorgeous Parisians. Apparently there is a dance club in the basement, but I was 1) alone 2) jetlagged and 3) not nearly chic enough. This is a great stop for a meal and drink. There were kids there with parents for dinner earlier on but think a better fit during lunch.
After a blissful sleep in my gorgeous Saint James bed, I had a lovely breakfast with the hotel's resident cat in the stunning library.
I love this library and came here for breakfast, one dinner and a few kir royales. Here is a view of the library bar from top stack of the library:
The books are delightful to look at and I love how the hotel encourages guests to explore.
I would take a cup of cafe to the grand lobby near the fireplace to make a plan for the day or to relax in the afternoon. How gorgeous is this lobby?
The spaces are airy and generous and they are very welcoming of families. I can't wait to return to Saint James for so many reasons -- including discovering different rooms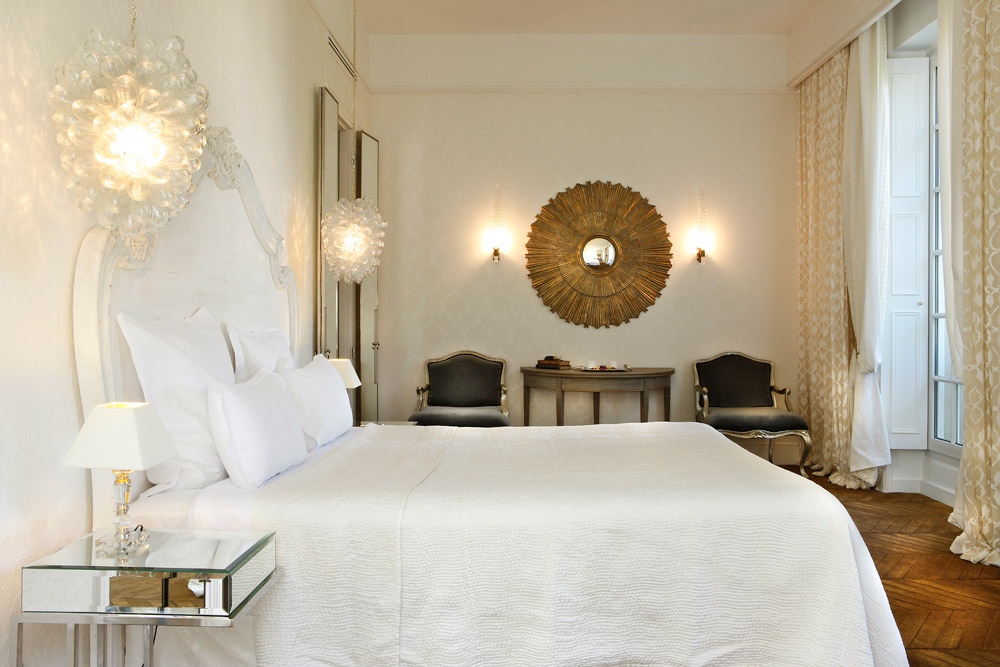 and enjoying their brand new spa that uses precious stones in the massages and body treatments.
Rooms begin at 330 Euro a night and Suites at 600 Euro a night. The Saint James is a preferred partner with Poshbrood/SmartFlyer. Contact us for the best room rates, upgrades and breakfast. Email us at travel@poshbrood.com or go to www.poshbrood.com/travel.
33 (0)1 44 05 81 81