< Back to Search Results
Ojai Valley Inn and Spa
Not ready to face the frenzy of holiday shopping, Poshbrood escaped to the quiet of Ojai Valley Inn and Spa over Thanksgiving weekend. Although located just 12 miles north of Ventura and about 30 miles east of Santa Barbara, it feels worlds away.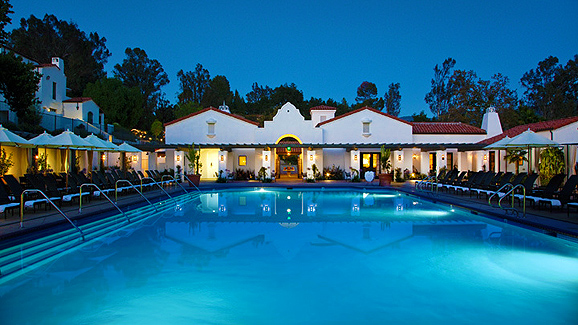 We arrived on Friday just in time for lunch at the Oak Grill, which features views of the golf course and surrounding mountains.
They have a great kid's menu and particularly yummy fries. The adult menu features soup, salad, and sandwiches with many ingredients locally grown. We then took the kids to the family pool and Jacuzzi to work off their excess energy. Despite being a holiday weekend, it was surprisingly not overcrowded. A welcome change!

We ended the afternoon with a jog down the Ojai trail and back around through the town of Ojai, which is definitely worth a visit. Known as a community of artists and musicians, the town features many art galleries, boutiques, coffee shops, and restaurants. For kids, Libbey Park has a playground, and there is a nearby skate park.

That night, after calling one of the recommended babysitting agencies, we had a civilized adult dinner at Maravilla.
Maravilla is a casual but stylish steak and seafood restaurant with Mediterranean influences. The fireplaces sprinkled both inside and outside gave the restaurant a very cozy ambiance. However, this is not a place to take a bunch of kids, as you will kill the atmosphere for everyone else! For dinner out with the children, go to the pub or into town.

Our accommodations were great: we stayed in a double mini suite with both a fireplace and a balcony overlooking the golf course.
We also had connecting rooms to Poppy and Mimi Poshbrood, who had a king mini suite.
The connecting rooms are perfect for large families or anyone that wants a little space from the fray.


On Saturday, the kids enjoyed a full day at Camp Ojai. Rather than just keeping the kids busy with Wii or Xbox, the kids played actual games like foosball and pool.The day also included dress up games and a nature walk. In the afternoon, a local rescue group came for a presentation on Raptors. The kids also loved getting to know the inn's cockatoo, Casper.
Ojai Vallet Inn also offers art classes, yoga classes and a "Dive In Movie" at the Main Pool every Saturday night beginning at 8pm.
During camp Ojai, Mom finally got to experience the gym and spahhhh....
The spa was fantastic! I was able to spend time in the relaxation lounge before working out some stress with a deep tissue massage. There is also a ground floor studio that features yoga classes, a lap pool, and a tranquil adult pool.
Afterwards, I detoxed with a "Clean" juice made up of celery, watermelon, and ginger from Cafe Verde. Heaven for a health nut!

The day ended with the annual tree lighting ceremony, featuring music by the Ojai Children's Symphony. The kids drank rich hot chocolate and ran around the green while we sang our favorite Christmas carols. Afterwards, we grabbed a burger and beer at Jimmy's Pub, and watched USC football beat UCLA (again).
We definitely will be back since we loved it and only scratched the surface of activities. Next time we will definitely stay longer to take advantage of the guided bike rides, golfing with the kids, and tennis. There is also an artist's studio, wine tasting tours, and seasonal events.
Room rates start at $350 a night. Ojai Valley Inn & Spa is a Preferred Hotel so booking through Poshbrood gets you room upgrades, breakfast and more extra VIP treament. Contact us here!
Submitted by Martha Wittenberg, LA mom of two, doctor, marathon runner, wife and travel addict.
1.805.646.1111