< Back to Search Results
The Ritz-Carlton, Marina del Rey
This family of five recently spent a night at The Ritz-Carlton, Marina Del Rey after a fabulous trip to Santa Barbara. We were tired and a little sad that our CA vacay was almost over but feeling sorry for ourselves stopped as we checked into the Ritz. Tucked along the Pacific coast between famous Venice Beach and peaceful Playa del Rey, the haven of Marina del Rey, California, is a waterfront escape on the outskirts of the hustle and bustle of Los Angeles.
The Marina del Rey area is a recreational Pacific coastal playground. Home to the world's largest man-made harbor with more than 7,000 pleasure boats and yachts, the area also boasts luxury condominiums, gourmet dining and unique shops. At the hotel, we were immediately greeted by Angela who wooed our girls by knowing their names, welcoming them to the hotel, let them choose a lollipop, gave them a scavenger hunt sheet and made them balloon animals. She also gave them a beach ball for the pool and a mini tour. The girls were enchanted.
We had two lovely connected rooms: a deluxe room with a king bed and a deluxe room with two doubles. Each room was 360 square feet and had a mini Juliette balcony and a view of the pool and the marina. The rooms were modern, chic and roomy with a small foyer area, desk and chair, easy chair and roomy bathroom. Even though it was only 63 degrees outside our girls wanted immediately to go swimming, of course, which was heated to a toasty 83 degrees. We all went to the pool area and met two sets of our local cousins for a swim.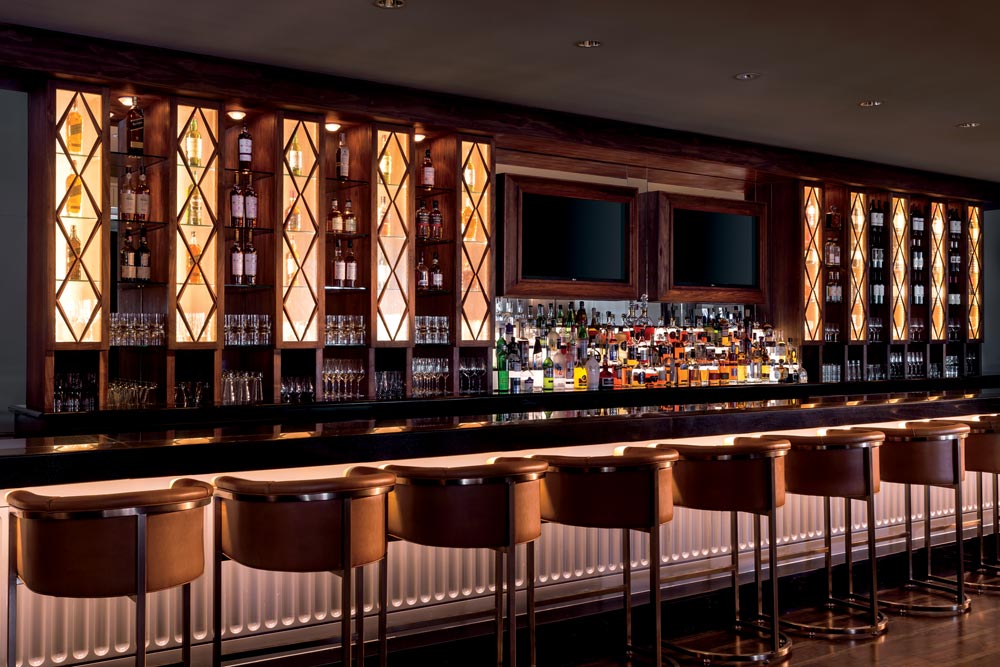 Even though it was frrreeeezing....the kids had a blast in the pool while the parents ordered some adult beverages from the Ritz staff. The hotel has a poolside restaurant open seasonally and you can also rent Cabanas for the day which is fab for families to have a home base. (Note that Britney seems to bring her kids here quite a bit each summer, hanging in a cabana and at the pool.) Next to the pool and whirlpool (which are open 24 hours a day), there are two lighted tennis courts that were having kids' lessons while we were there.
After the children were sufficiently tuckered and pruney, we changed into dry clothes and all had dinner at the Lobby Lounge Restaurant. They sat our group of five adults and seven children on the back porch area. They had a great kids' menu and everyone agreed the truffled mac and cheese was out of sight! I recommend the Lobster Cobb salad.
We did the Scavenger Hunt which was fun and a great activity to keep kids busy and we walked down to the marina area and spoke to a bunch of people on the boats which the kids thought was great fun. We parted with the large gang of cousins and went back to our rooms. The girls were asleep in .24 seconds and we had a movie date in our room. We all slept like the dead. Those Ritz feather beds were so fluffy and cosy that despite the best intentions to get up and hit the large fitness center before our 5 hour plane ride back East, both parents hit snooze. Several times. We missed breakfast. We missed the cut off time for checking luggage at the airport. We had to take a later plane! If you don't oversleep, The Ritz Marina del Rey is in the ultimate location for easy LAX access. You would never know it but LAX is just 15 minutes north of Marina del Rey.

We thought the Ritz Marina del Rey was fab. We wished we had more time there and to explore the area. The hotel gave us a huge packet of brochures and things to do that was family-oriented. They have bicycles for your use, tennis on site, access to waterfront walking and jogging paths, and the outdoor marina, pool, cabana, restaurant setting is incredible. We'll be back to hang out in the poolside lounge, charter a sailboat and take a trip to Catalina Island soon!
Room rates start at $369/night. The Ritz-Carlton Marina del Rey is a Virtuoso property. If you book through Poshbrood, you will get the most competitive rate plus these added benefits:
a room upgrade pending availability,
daily continental breakfast for two in room or in restaurant,
4 pm late check out,
full day bike rental for two OR two hours complimentary tennis time.
(310) 823-1700