< Back to Search Results
La Quinta Resort & Club
Poshbrood recently spent spring break (with grandma!) at the historic La Quinta Resort and Club. As soon as we drove on to the grounds, we were in love with the place. The rugged Santa Rosa Mountains surround this sprawling oasis in the Palm Springs desert area. Everyone was very welcoming and friendly when we arrived. We were offered their special citrus drink while checking in as the kids played outside, running over the little bridge, checking out the waterfall, flowers and fruit trees.
We were given charming and spacious adjoining Deluxe Casita rooms, each 462 sq feet, in a classic terracotta-roofed casita at the end of a long swimming pool. There are over 45 outdoor pools with hot tubs at La Quinta, each surrounded by similar casitas or condo-like rooms with kitchens. Grandma had a king bed with a fireplace and Mom and the kids had a room with two queens. Both had tremendous, authentically tiled bathrooms with double sinks and separate shower and bath. The La Quinta lotions and shampoo are very special -- the Cocoa Mango Lotion with California Huckleberry is divine! It's in the room and also can be purchased in their shops. There were new flat-screened TVs with pay-per-view movies and free video games. The mini fridge had an icemaker and there were several shelves above the mini-bar for storage; if we return, we'll bring more snacks.
We had a lovely patio that faced the pool with a table, chair and lounge chair where we could gaze at the towering palm trees. These rooms would have been ideal if Dad had been with us- he was quite jealous to be left behind! Our dog could have come, too, since this is a dog-friendly Waldorf Astoria Resort. There were eight units in our little casita, so it would be perfect for two or more families to share. If needed, you can rent a microwave for $25 a day. Cribs are also available at no extra cost. We were close to the plaza, but still felt secluded. Our pool was one of the largest on the property and there were lots of other kids for my children to befriend. I sat on a lounge chair or in the Jacuzzi and relaxed, while the kids hopped right on their scooters – a must, and bikes can also be rented for $8-$12 a day – and zipped all over the resort. They are 8 and 10, so I didn't have to worry about them falling in a pool or getting lost. This might not be the case with a toddler, but there was one area with larger, condo like rooms, where the pool was gated.
There is one tremendous amoeba-shaped pool adjacent to the playground, the arcade and the Tennis Center. The Center Court Café serves food and drinks poolside there and you can rent a cabana for $150 a day or $60 half day. This is the kids' hub for sure. Ours played in the arcade, but we were partial to what felt like our own tranquil pool back at our room.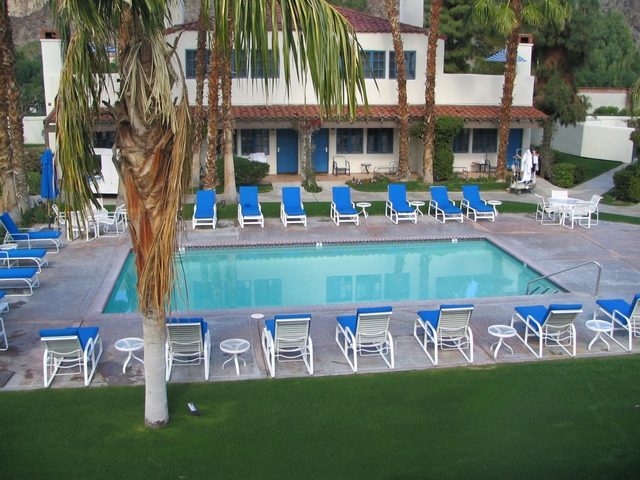 Tennis, golf and spa are the main activities at La Quinta. There are 23 tennis courts and five golf courses. There's even a little putting green amidst the Casitas Vintage Original Rooms, which were built in 1926. It's hard not to picture Frank Capra himself, taking a break from writing It Happened One Night to practice his short game there. Grandma had a "world-class" private lesson at the Mountain Dunes course on the resort. Tennis is my passion, so I took a private tennis lesson ($100) one day and participated in the daily $25 clinic the following morning. There is also an hour-long kids tennis clinic is held at 4pm during busy weeks for $15.
The Spa La Quinta offers services for mom, dad and kids as young as eight years old. That's right, your eight-year-old-diva can get an "Orange and Cream Dream" massage and scrub. Fancy! The list of therapies for mom and dad are extensive, including massages, facials, salon treatments, salt baths, and more. For $25, you can also use the steam room and jacuzzis. There is also a seven-mile hiking trail walking distance from the resort. A few moms at our pool went one morning and said it was beautiful. If I'd had one more day, I would have hiked for sure.
The local YMCA runs a kids camp from 9am-1pm at the resort if five or more kids sign up. For $50 per child, they do arts and crafts, play games, swim and have a light lunch. The concierge can also arrange for a certified sitter to come at any time, day or night, who will even take your kids golfing. If we were traveling with my husband instead of Grandma, we might have needed something like this so he and I could play tennis together.
We ate at four of the resort restaurants: Twenty6, Ernie's at the PGA West Nicklaus Tournament Course, Adobe Grill and the Coffee Market, all of which had kids' menus with crayons and games. We also ordered breakfast on our patio one day (although room service can be ordered at any time, including drinks!). Twenty6 was particularly kid friendly – the chef even made Fruitloop ice cream, which he brought out to each table himself. A shuttle will take you to Ernie's, where you can sit around a fire-pit over looking the beautiful course. The Adobe Grill had excellent Mexican food and a tremendous selection of tequila – yay! We grabbed snacks and cereal at the Coffee Market, where all the kids were charging ice cream to their rooms. Thankfully, mine didn't figure this out till the last day! I regret not eating at the Centre Court Café at the big pool, but we were so smitten with our little nook that we couldn't tear ourselves away.
La Quinta just offers so much to do! And really, it's awesome to sit by the pool and do nothing. My kids "adventured" on their scooters and swam till they were waterlogged. All of us took advantage of the nice shops, including a toy store and a kids clothing store with everything from bathing suits to sunglasses. I have a long agenda for my next trip there. We can't wait to go back. They do offer great deals in the summer, but the heat might be tough. It was PERFECT when we were there in April mid to high 80s. Altogether, La Quinta is a beautiful old-school California resort.
Room rates begin at $259 a night for casita rooms. Check the resort website for specials!
--Submitted by lindsaygallagher@me.com
760-564-4111